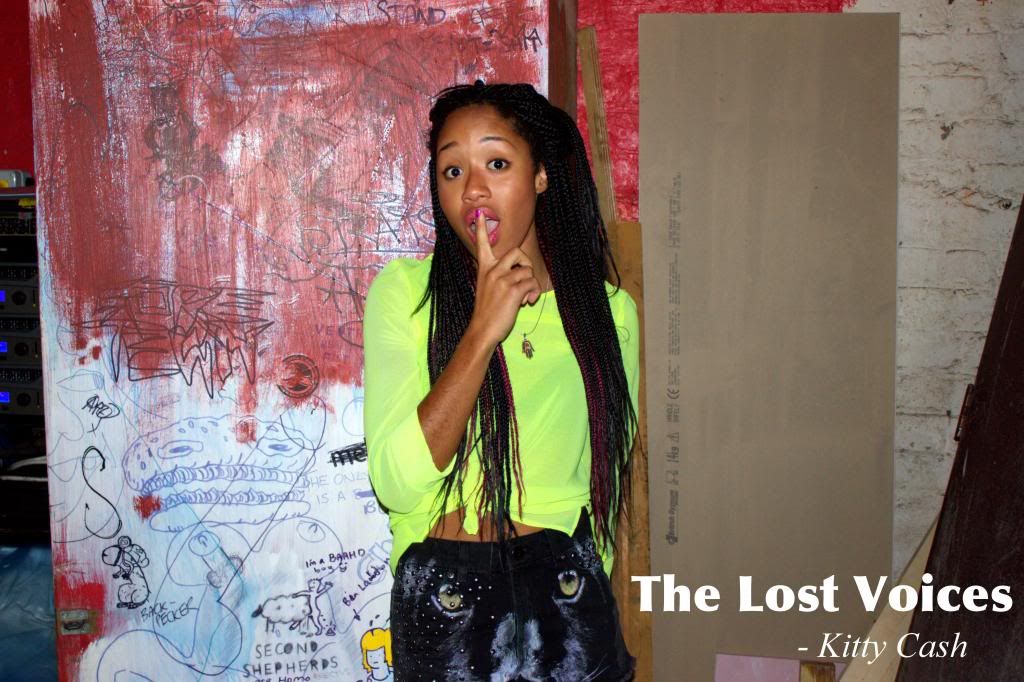 I had wanted 
Kitty Cash
 to be the first in the new wordless feature series called 'The Lost Voices' but as we found ourselves in the green room of the Night and Day cafe with sounds of the Internet infiltrating the room, I thought the audio would be no good –so decided to write. Turns out I was wrong. Have a read and listen below! 
______________________________________________________
I arrive at the Night and Day cafe to find Kitty dressed in a neon green top and short shorts (she's all about the sexy and pulls it off so effortlessly.) She's dancing amongst fans to the sounds of the Internet, still buzzing from playing her first UK show to an extremely responsive Manc crowd. "Manchester was so turnt up. After we played they started chanting for Kish – I had to run down here to get her." she says "We've played New York and LA; they are really tough crowds to get positive feedback from - you know. Like after the show, they'll be like 'you were amazing' but during the show is what you need." 
Kitty Cash, real name Cachee Livingston is the young lady behind Kilo Kish -literally- she's best friend and DJ to the American rapper. The pair met at a party while at college and instantly connected. It was a 'you're so pretty. you're so pretty too' type thing and they just danced the night away. As she relies the story of their meeting, Kish is stood on the opposite side of the room beaming. There is a real family dynamic with this group -Syd, Kish, Cash, J. Scott and Matt- so much love, support and mutual respect. 
It was this apparent family bond that led her to take on the role of DJ -though inexperienced and deeply rooted in fashion PR- after the search for a suitable candidate came up short. "I was just really down for my best friend." she tells me. And although she hadn't always planned on being a DJ, she's always had an appreciation for music as an art form -growing up in a culturally diverse home. 
Cash is high energy - making it no surprise she's able to juggle a pr role at G-Star and DJing/touring with her best friend. While she's inspired by Kish and other friends, her biggest influences are her younger siblings - she's on a mission to be an inspiring enough big sister. "I just want to let them know 'you can do anything you want to do'." And with all her drive, it's a goal easy enough to reach.
"the audio is not edited - I am currently obsessed with rawness"